Basement Solutions
Most Philadelphia basements suffer from the same problems: crumbling/flaking walls and cracked floors, etc... We will patch your walls and apply a masonry waterproofing paint. Floor cracks and holes will be repaired with hydraulic and liquid cement, then apply 2 coats of floor enamel. You deserve a clean and dry basement.
"Hawthorne Painting strives to be quality driven and cost competitive. To have respect for our clients' time and property. To return communications in a timely manner and show up on time for bid appointments and scheduled jobs. All quotes will be in writing and any changes will be mutually agreed upon. We always start and complete one job at a time."

– John Rennie, Owner
Recent Project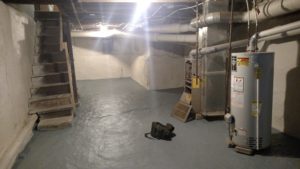 We stand behind our work. All of our work is guaranteed to be exactly what you are looking for. When it comes to craftsmanship and care, Hawthorne has got you covered. We believe that every client is a client for life and in order to build a lasting relationship, we make sure every job is perfect. Call us today to find out what we can do for you.